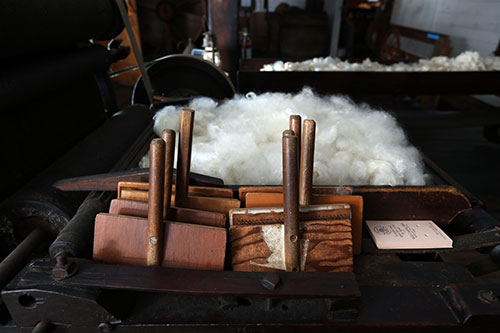 Dean Wile hired young women to work his mill, probably because women's wages were cheaper.  Several women worked for him over the years, Some were the daughters of local neighbours.
Jane Frank (Fronk) (1865-1946) worked at the museum and then presumably brought her  nieces into the business. Jane was working at the mill in 1891.  Blanche Frank (1867-1925) her sisters Eva (Evelyn) Frank (Hubley) (1893-1954) and Maud Frank (1888-1905) worked at the mill.  They grew up on St. Phillips Street, not far from the mill.  Edna Tompkins (1898-  ) probably worked at the mill before her marriage to Robert McCarthy in 1921.  Jennie Fisher (Lohnes) (1884-1975) and older sister Sevilla Fisher (Weagle) (1881-1981) both worked at the mill.  Jennie later married a second time and moved to Maine, USA.  Sevilla lived all of her life in Bridgewater.  She bore 11 children and died at the age of 100. Sevilla was interviewed by CBC in 1976 about her memories of working at Wile Carding Mill.
Find out more about the Women of Wile by contacting Wile Carding Mill Museum.