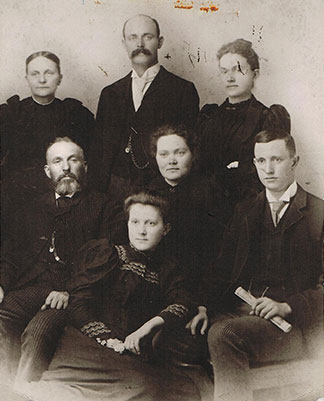 Dean Wile (1833?-1913) was the grandson of Andrew Wile (Weil), who came to Lunenburg County in 1796.   Of the Lutheran faith, Dean  was born in Waterloo, Lunenburg County, NS,  the son of John George Wile.  Dean married in 1858 to Mary Ann Everett (1836-1898) born in Aroostook, Maine, USA.   The Wile family was one of the first families to settle in Bridgewater.
Dean and Mary Ann had the following children:  Lydia (1859-1924) married Mr. Valentine Slatterly of Bridgewater; Arkanas L. (1860-1925); Ida May (1864-1874); Mary Ella (1866-1931) who married Mr. Ellard Murdock; Beatrice Princetta (1866-1880) died of tuberculosis; George Dean (1869-1877); Pearl Scott (1870-1877); Otto (1872-1936) who married Bernice Veinot; Harold Fletcher (1874-1888), who died of inflammation; and Pearlie Edith (1879-1960) who married Wynn Crouse in 1909.
Arkanas also managed a local shoe store in Bridgewater. Youngest son Otto Wile had previously run a business at Brookfield Mines during the gold mine boom, but moved to Bridgewater in 1920 and took charge of the mill as his brother Arkanas was busy with his shoe store.  
Mary Ella and husband Ellard Murdock operated a shoe store and ice cream parlor in Bridgewater.
Dean Wile died May 29, 1913 at the age of 79 years.  Mary Ann died January 4, 1898, age 62 years.  There is a large monument off York Street entrance to Brookside Cemetery with an inscription stating Dean Wile donated the land.